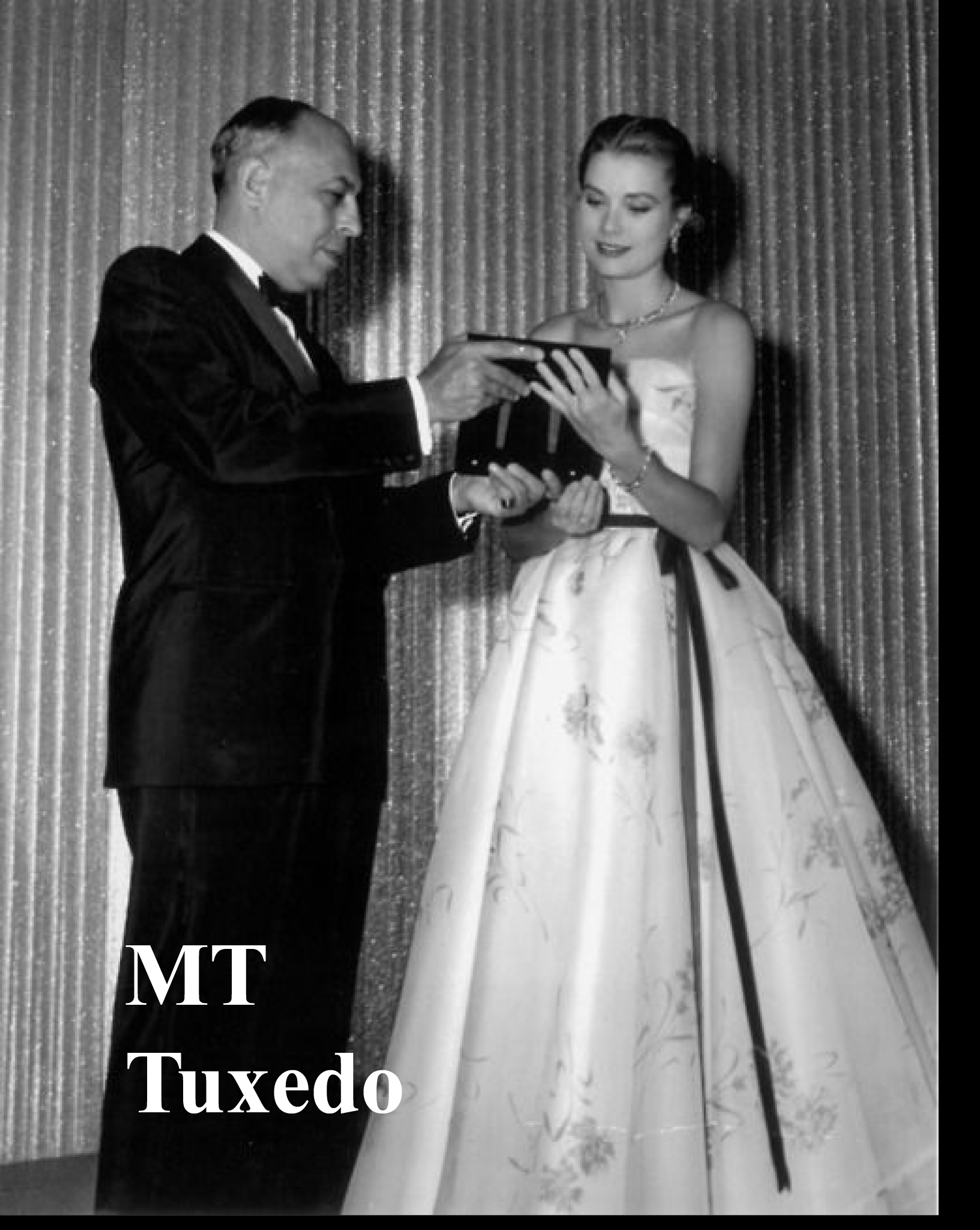 Where did the high-end retailer Stanley Marcus of famed Neiman Marcus get his clothes tailored, you ask? Starting as early as the 1940's Mr. Marcus custom made his suits at Model Tailors. And we have the receipts to prove it. On very formal occasions he wore an MT tuxedo.
Mr. Marcus wore his MT tuxedo when he presented the distinguished fashion award to Grace Kelly in 1955. For this occasion he chose a shawl collar lapel –that is a solid rounded piece of satin that wraps all the way around. Three years later, he chose a different fabric for his MT tuxedo when he presented Coco Chanel with a fashion award.
Traditionally in very formal occasions known as Black Tie, a gentleman wears the classic tuxedo uniform meant to impress but enhance his appearance. The key for the gentleman is to look sharp and masculine, without stealing attention away from the lady he is with.
Your tuxedo can also have a peak lapel which is considered the most formal look for a tuxedo. And the notch lapel is considered the least formal of the tuxedo style. You should stay away from the more trendy tuxedo with a mandarin collar and no lapel.
After you have chosen one of the three basic types of tuxedoes: peak lapel, shawl collar, or notch lapel. Choose the best fabric you can find. Cashmere and silk combination is your best bet. Also a light tropical wool fabric will look excellent as well. Your tuxedo will have the traditional satin trim to give it that classic look. Whichever style you choose, however, make sure you tuxedo is custom made to fit. The best clothes in the world will only look good if they fit well.
A custom made tuxedo from Model Tailors will make you look great for any Black Tie affair.